Lodge
At Turaco Treetops, we believe in creating an uncomplicated, and warm-hearted atmosphere for all our guests. Whether you are looking at exploring the Kibale Forest region or are staying with us to unwind, our team is happy to serve you with a smile.

Immerse yourself in nature on Turaco Treetops' 5.2 hectares of rain forest, neighboring the lush Kibale National Park, famous for its chimpanzees. At the lodge grounds many of the birds, monkeys and butterflies that inhabit the Kibale Forest can also be found, including primates like Bush Babies, Black and White Colobus monkeys and of course the Great Blue Turaco.
---
Our
Story
The team behind Turaco Treetops is passionate about nature and hospitality. On one of the last patches of rain forest outside the boundaries of Kibale National Park, we are proud to invite you to a lodge that honors nature and presents Uganda with a modern twist.

Our main lodge, rooms and cottages are built for comfort and let you soak up nature at the same time. To minimize our footprint the lodge is powered by solar and takes care of its surroundings, for example by rejuvenating degraded forest areas around the lodge, local sourcing, and renouncing single use plastics, including plastic bottles of mineral water.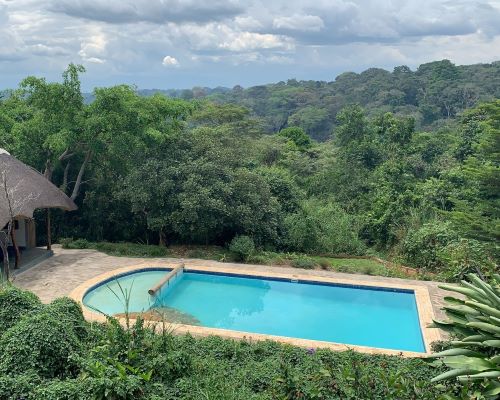 ---
Restaurant
& Lounges
Our main lodge includes a restaurant, a lounge area with a cozy fireplace, a bar, an outside terrace, and a first-floor lounge with spectacular views over the forest and the snow-capped Rwenzori mountains. Enjoy a tasty meal, read a book, watch the butterflies and birds, play a game, or grab a drink and watch the sun setting behind Mount Stanley. For everyone who wants to share their adventures or is looking to recharge their equipment, we have free WiFi and charging docks available in the main building.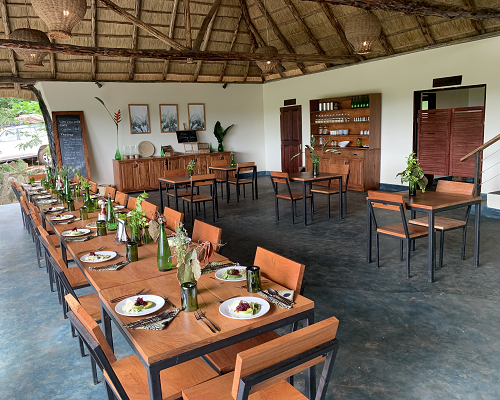 ---
Pool
Time
For everyone who is looking forward to a day of chill or wants to energize after a day of adventure, our poolside is the place to be. The 5x10 meter pool is strategically positioned in the lush garden in front of Turaco Treetops' main lodge and has a shallow end for the youngest guests. Find a chill spot on one of the sunbeds, hang out in the cozy grass thatched pool house or relax around the Red Hot Poker tree.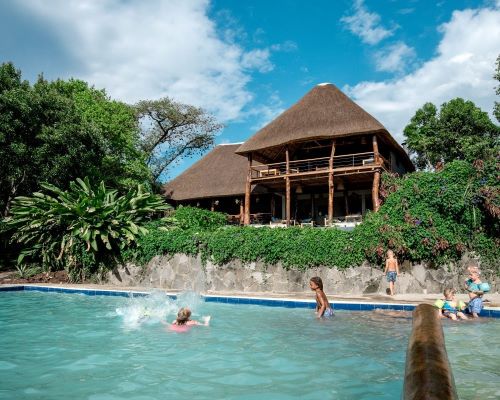 ---
Family
Friendly
Exploring the world can't start young enough. We welcome families with children of all ages and cater for their needs with an outdoor kids playground, and an indoor kids room in our main lodge. Ideal for parents who want to enjoy a drink and see their children entertained at the same time. Our pool features a shallow end for the young ones and counts for tons of water fun for all ages.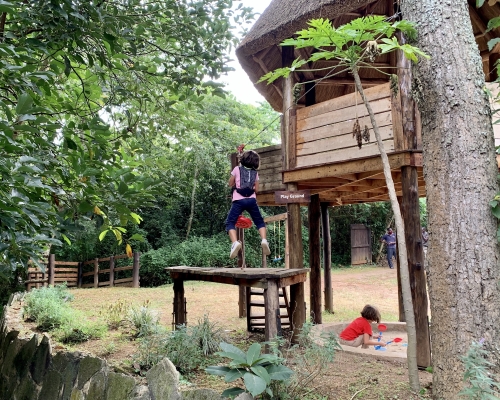 ---